A Roundup of the TCT Show 2018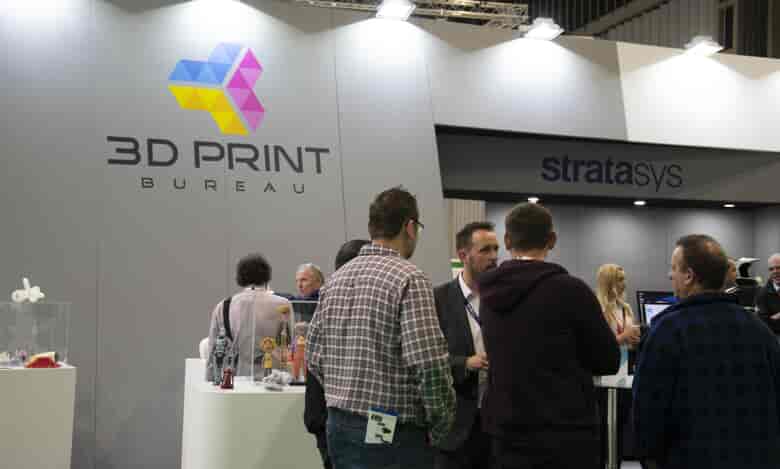 The Biggest Design to Manufacturing Event of the Year
It's been one week since what we consider to be one of the best exhibitions of the year in the design and manufacturing industries.
As always, this year's TCT show was a fantastic week, filled with interesting conversations with an array of professionals, innovative industry talks, new product and technology unveilings and some fantastic networking opportunities. For those that visited, you'll know what we mean when we say there's an energy at the TCT show that's quite unique, perhaps it's the anticipation of the latest advancements in additive technology, or the passion the exhibitors have for the industry they work in, whatever it is, we'd highly recommend going!
Here's our roundup of TCT 2018…
We went all out…
This year our stand was bigger and better than ever before and we were lucky to have landed an ideal stand location, front and centre of the exhibition hall. As usual, we exhibited alongside our sister company Tri-Tech 3D, meaning that as well as offering an in-house bureau service where all the technical work is taken care of for you; when you're ready to invest in your own technology, we can help facilitate your jump to the next level with our colleagues at Tri-Tech 3D.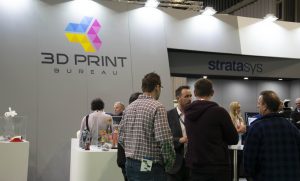 We had some fantastic models on the stand, showcasing the latest technologies available. One of our most popular models this year was the bowl of 3D printed fruit, which utilised the new J750 Vivid Colours upgrade. This offering is now available for customers of our bureau! Also on show this year were some of the new materials we now offer including Carbon Filled Nylon with superior strength qualities, as well as PolyJet material – Agilus 30, which offers a more tear-resistant alternative to the popular Tango material.  Visitors to our stand had an opportunity to get a look and feel of the new materials as well as receiving expert advice on the best applications from our 3D print team.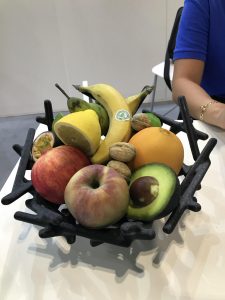 A New Focus…
This year we noticed not only an increase in footfall to the show but also an increasing amount of visitors with specialist applications and a great deal of knowledge on 3D print. Our team really enjoyed speaking with visitors about our latest projects and technologies being introduced to the Bureau's range of offerings and will be in touch shortly with anyone who left an enquiry. We'd like to thank everyone who came to visit us at the show, you helped to make an incredibly interesting and enjoyable week for our team. We'd also like to thank our partners and suppliers who contributed to the success of the show and our stand, the level of teamwork was great to see.
Dave Bennet – 3D Print Bureau Manager comments –
"The level of knowledge of ALM our visitors showed was far greater this year, showing how 3D Printing is maturing as a prototyping and production tool".
Throughout the week, our team found plenty of opportunities to network with like-minded people who are just as passionate about the industry as we are. From the Desktop Metal team who joined us from across the pond on our stand, to our friends over at Mackinnon and Saunders, Made in the Midlands, and more. It was great to catch up with our customers old and new and we hope we were able to answer all your queries. If you still have a burning question, drop us an email or give us a call.
One of our 3D print operators who visited the show commented –
"I was involved at the TCT show 2 years ago in 2016 and the level and speed 3D technology has advanced in such a short time is just simply AMAZING! Another great show! Can't wait to do it again next year!"  
The Competition…
This year we were running an exclusive competition with Tri-Tech 3D where visitors had the opportunity to win either £150 of bureau credit or the grand prize of a MakerBot Replicator Mini! We have now announced the winners across our social media so keep a look out if you entered.
An exciting announcement…
As part of the Stanford Marsh Group, we had an exciting announcement at the show involving the addition of a new division to the group of companies – The 3D Print Academy. The 3D Print Academy is the only Stratasys accredited training centre in the UK to offer FDM and PolyJet 3D print courses, and we're delighted to start welcoming customers to book onto them! We believe this new service will be highly beneficial to our Bureau customers as being able to understand the 3D print process will play a great part in determining the best types of technology to use , and will enable you as the customer to make more informed decisions about your AM project. For more info on this new service, visit the website.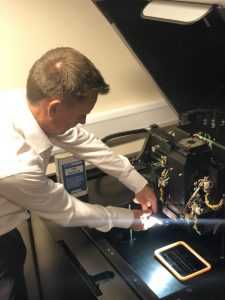 It's been a great week…
Overall, TCT 2018 was a great success and we can't wait to exhibit again next year! In the meantime, if you need to get in touch with us, head over to the contact us page to get in touch. You can also follow us across our social media channels to stay up to date with the latest news, offers and events at the 3D Print Bureau.
We'll next be exhibiting at the Engineering Design show on 17/18th of October at the Ricoh Arena, we hope to see you there!