Choosing the right finish for your 3D print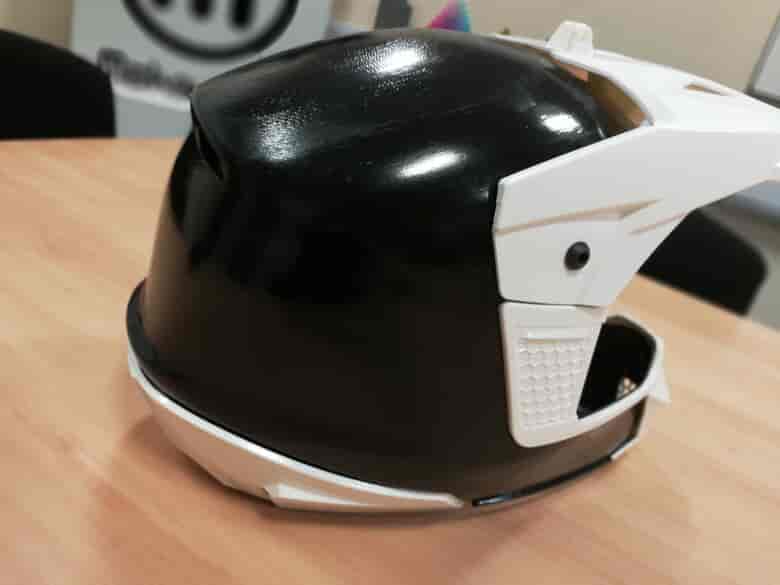 Our team discuss the finishing techniques that can be applied to your 3D Printed part...
3D printing is often a more efficient manufacturing solution for many industries. It can provide the ideal solution to producing prototypes, tooling, jigs and fixtures and end-use parts, whilst significantly reducing production time and costs. However, as 3D printing creates parts by building layer by layer, the surface of the end-result can sometimes seem a bit rough.
Here at the 3D Print Bureau, we're passionate about going the extra mile! Our team work with a range of suppliers to find finishing solutions for your 3D printed part. There are a variety of finishing options to choose from which can make selecting the right finishing process for your application a little confusing. Here's our guide to finishing solutions for your 3D printed part…
Painting
Whilst the finish of FDM parts isn't as camera friendly as PolyJet parts, FDM parts can be sanded and painted to meet the cosmetic requirements for virtually any application. With this type of finish in mind, the most suitable materials to use are ABS-M30 and legacy ABS materials as these require the least amount of prep work for finishing.
For applications that require a flawless finish, PolyJet is the ideal technology to use. PolyJet models can be painted straight from the printer with no need for any preparation or polishing; with off the shelf acrylic paints and lacquers and a bit of skill, true product realism can be achieved. This method is ideal for concept modelling.
Electroplating
Electroplating is a finishing process that involves depositing a thin layer of metal on the surface of a part. The metal coating can be decorative or functional, giving the appearance of production metal or plated parts and provides a hard, wear resistant surface with reflective properties.
Before electroplating a part, you must sand and seal the surface to prevent it from absorbing any electroplating solution. The part can be sealed by either smoothing the surface, solvent dipping or painting. The electroplating can then take place using alloys such as Chromium, Nickel, Copper, Silver and Gold.
The preparation needed for electroplating makes the process slightly longer than others, however by combining FDM properties with those of a metal coating, the part has strength, durability and heat resistance this is ideal for functional applications.
Hydro Dipping
Need to brand your 3D printed parts? Hydro dipping could be the ideal solution for you.
Hydro dipping is a method of applying printed designs to three-dimensional surfaces. The process is ideal for applying logos and high-resolution graphics onto your parts and is particularly well suited to prints with complex surface geometries.
Whilst the results are of high standards, hydro dipping does require some preparation. The 3D printed part must go through the entire painting process involving surface prep, priming, painting and clear coating before being ready for hydro dipping.
Metalier
Metalier allows you to coat your 3D printed part to make it look like solid metal. It's a simple process that allows your print to be sprayed in a choice of up to seven different metals and made to mix alloys. The end product is made to resemble that of foundry or sheet metal but weighs much less.
The metal can be finished and polished in a number of ways to create unique textures and patterns and comes in three formulas – Solvent, water-based and flexible.
Sealing
For certain applications, the porosity of FDM parts has presented an obstacle to using them in functional prototyping and direct digital manufacturing applications that require sealing of gasses and liquids.
There are a range of sealing methods which can be used, including the smoothing station, epoxy coating, epoxy infiltration, dipping and painting and filing. See the descriptions below to asses which sealing method would be most suitable for your application…
Smoothing station – Seal's a part's surface by exposing it to a vaporized smoothing agent. This process is ideal for parts that are going to be electroplated, or for functional prototypes of liquid holding geometries such as bottles or cooling lines in moulds.
Epoxy Coating – Dispensed in a mixing gun and brushed onto the part in small sections. This method is ideal for harsh operating conditions, as the coating will maintain an airtight seal up to a pressure of 65 psi, can withstand temperatures that match or exceed that of FDM materials and is resistant to many chemical agents.
Epoxy Infiltration – The epoxy resin penetrates the surface of porous and semi-porous parts. Epoxy infiltration offers an airtight and watertight seal up to 65 psi. Parts sealed by this method also withstand high temperatures and are chemically resistant.
Dipping – An alternative to the smoothing station when the part exceeds the chamber capacity. This method is ideal for low-temperature, atmospheric-pressure applications, although it's important to keep in mind that dimensional accuracy is generally lower than the smoothing station due to the quick and aggressive action of the solvent as it melts.
Painting and Filling – This method is an ideal and low cost option for when FDM parts need only partially sealing. This process has a short cycle time and ease of application, although keep in mind that it will not have an airtight seal and cannot resist high temperatures or chemicals. The process is usually used to reduce the porosity of FDM parts, particularly tooling.
So there you have a range of different finishing processes that can be applied to your part after it's printed. Our team work are in contact with the specialists who provide these processes and are able to give advice should you need it. If you are interested in using one of the following finishing processes, just let our team know when you submit your file and we'll be able to advise on the best 3D printing process for the finish you desire.