PolyJet FAQ's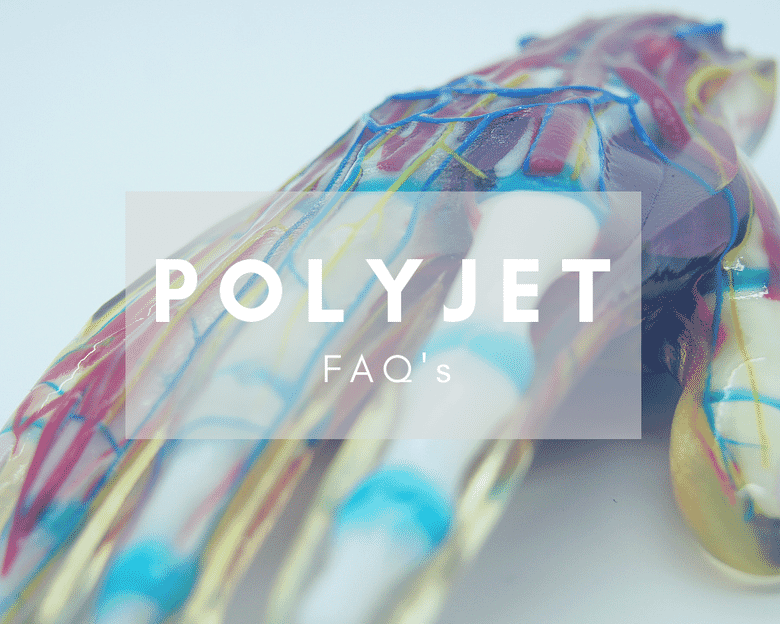 Our bureau manager answers all of your FAQ's on PolyJet technology...
How does Polyjet work?
PolyJet (Polymer Jetting) uses high definition inkjet technology, PolyJet 3D Printers deposit tiny droplets of UV curable liquid photopolymer to create layers on a build platform
Do you have a minimum order charge for PolyJet?
Our minimum order charge here at the bureau is £50.00 plus carriage and VAT for all technologies
What is the smallest hole size you can produce?
The minimum recommended feature is 0.5 mm, we have printed 0.6 mm holes, but this does seem to be on the edge of PolyJet capability
What's the biggest bed size you have for Polyjet?
We have three printers with a 500 x 400 x 200 mm XYZ bed size, the maximum printable area is 490 x 390 x 200 mm.
What's the best accuracy you can achieve with PolyJet?
20-85 microns for features below 50 mm; up to 200 microns (+/- 0.1 mm) for full model size in High Quality mode.
What PolyJet materials do you have available?
We have the full Stratasys PolyJet materials from the complete Vero and Agilus range are available.
What's the thinnest wall thickness you can go down to?
The minimum recommended feature is 0.5 mm for rigid models and 1.5 mm for flexible models. We have printed thinner flexible features successfully and certainly 1.0 mm features are possible. Digital prints should be 1.2 mm in order that the two (or more) materials can be combined accurately, although Digital ABS Plus has a minimum recommended feature of 0.6 mm.
Is Polyjet cost effective for 10 or more parts? Or should we choose injection moulding?
In comparison to Injection Moulding PolyJet would be cheaper when tooling costs are considered. For quantities of between 10 and 1000, depending on the size and complexity of the part, Vacuum casting is often more cost effective than PolyJet.
What are the advantages of PolyJet technology?
The combination of speed, accuracy and surface quality are the main advantages over other 3D Printing technologies. The wide range of materials means there is a product that can be similar to how a real part would be manufactured. Colour is increasingly an advantage. Digital ABS Plus gives good strength qualities.
Has your query not been answered? Drop us a line on: contactus@3dpb.co.uk and one of the team will be more than happy to answer!