3D Printing for the Manufacturing industry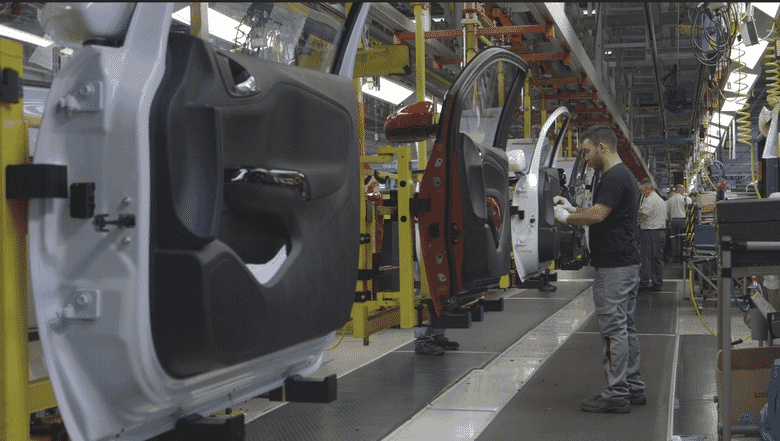 3D printing is fast becoming a popular and viable method of production in the manufacturing industry
With an ever evolving market and more customer demand than ever before, traditional manufacturing methods are struggling to meet the demands of the current climate. This is where 3D printing steps up to the task, as new additive manufacturing technology enables manufacturers to create products in an array of different materials and with more capabilities than standard production methods, it seems that manufactures who do not adopt this new technology, could fall prey to those who embrace it. In this article we will discuss both the advantages and disadvantages to manufacturers of this up and coming technology.
In today's global market where consumers are spoilt for choice, their expectations are exceedingly high as they are able to get hold of the best quality products which can be delivered in a moment's notice and all at the touch of a button. However, with this new demand comes the need for new technology in order to keep up with today's consumer requirements. Standard manufacturing techniques are struggling to do this and do not offer the speed, flexibility or innovation that's now required.
This is where 3D printers take over. Here at the 3D Print Bureau, we offer you more control through the design process and more product flexibility than ever before. Manufacturers are able to tweak and test designs mid process, meaning each unit can be modified to suit unique needs or more broadly to accommodate improvements or changing fashion. This allows for the manufacturer to respond quicker to market changes, and it turn stay ahead of competitors.
In addition to this, using our 3D printers can shorten the production process. One of the ways in which this is possible is by allowing moulded parts to be validated using final production processes and materials. This shortens the process of carrying out rigorous quality tests using which is often a costly process when using traditional manufacturing methods.
One of the most suitable printing ranges we have for manufacturing is the Fortus systems. The Fortus 380/450 allows manufacturers to produce complex parts with the ability to embed hardware, circuitry, and other non-thermoplastic materials into parts. They're also able to use standard, engineering grade and high performance plastics.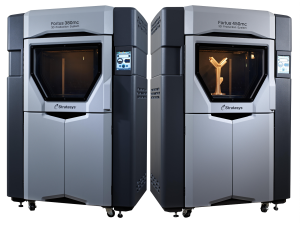 These printers run on GrabCAD software, allowing easy cloud based collaboration whilst managing, viewing and sharing CAD files. In addition, the Fortus 380/450 have a simple touchscreen interface and easy-to-replace build trays and loading options meaning minimal staff training is required and can be left unattended for up to two weeks. These printers support a range of applications including jigs and fixtures, tooling, moulding application tools, surrogate parts, and sacrificial parts. In addition, the Fortus 450 also supports sacrificial tooling.
Moreover, the Fortus 900 is an FDM printer which is specifically designed for manufacturing and heavy industries and can handle the most demanding of manufacturing needs. The Fortus 900 has the largest build size out of the Fortus systems and has a fast build time for large parts.  The high versatility of the Fortus 900 means manufacturers are able to produce robust production parts, jigs and fixtures, factory tooling and functional prototypes using a wide range of thermoplastics which have advanced mechanical properties. These properties mean that parts produced can withstand high heat, caustic chemicals, sterilization and high-impact applications.
The materials which can be used on the Fortus systems come with a range of advantages over traditional manufacturing methods as structures can be created with greater strength, durability and resistance to impact.
Here at the 3D Print Bureau, Ultem 1010 is one of our most popular materials which manufacturers use. Ultem 1010 is an FDM thermoplastic which offers the highest heat resistance, chemical resistance and tensile strength out of any other materials in the thermoplastic range. It can be used on the Fortus 450c and the Fortus 900mc whilst also being approved for food contact with NSF 5 and ISO 10993/USP class VI certifications.
Another material we recommend; which is best suited to the manufacturing industry, is Ultem 9085 which is particularly suited to the automotive and aerospace industries. It has an FTS rating and high strength to weight ratio, making it ideal for manufacturing automotive components and other strong, durable parts suitable for end use.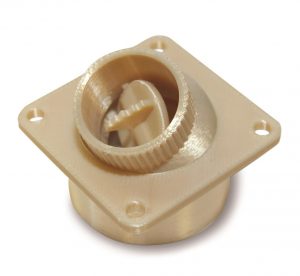 Ultem 9085 aerospace is the first choice for the aerospace industry as it is produced in accordance with strict requirements for documentation and traceability. The material can be used to create large parts of the endo and exoskeletons for jet fighters; including the body, wings, internal structural panels, embedded wiring and antenna, which can be created without a need for assembly. It also allows for lighter and more fuel efficient structures to be created.
Other advanced applications of Ultem 9085 include functional prototypes, manufacturing tools and low volume, high value production parts.
With these production advantages come a multitude of economic benefits to manufacturers which we can provide. By choosing 3D printing methods over traditional manufacturing methods, manufacturers have more control over the creation process which reduces the margin for error; this saves both time and money.  In addition, there is less material wastage than traditional methods as 3D printing uses the minimum material needed to fabricate a part.
As time is a major factor when considering manufacturing methods, it's important to consider which method is most suitable for a company's individual needs. Whilst the production process can be slow when 3D printing due to each layer being printed individually, the overall quality of the products is much higher than traditional manufacturing. Furthermore, when factoring in a shorter product development time, reduced margin for error and a higher level of control over the overall product creation, 3D printing can in fact be a quicker process than that of traditional manufacturing methods.
Overall, 3D printing is an up and coming technology which is fast becoming a vital tool for manufacturers who want to keep up with the competition. Whilst acquiring such technology can be fairly costly, here at the 3D Print Bureau we remove the need for heavy investments by providing a Bureau service. All you need to do is send us an STL file with your design on and our professional and dedicated team will handle the rest. So no staff training, no equipment purchases and no maintenance to worry about. Let the 3D Print Bureau turn your manufacturing problems into manufacturing solutions.