Behind the scenes at the 3D Print Bureau…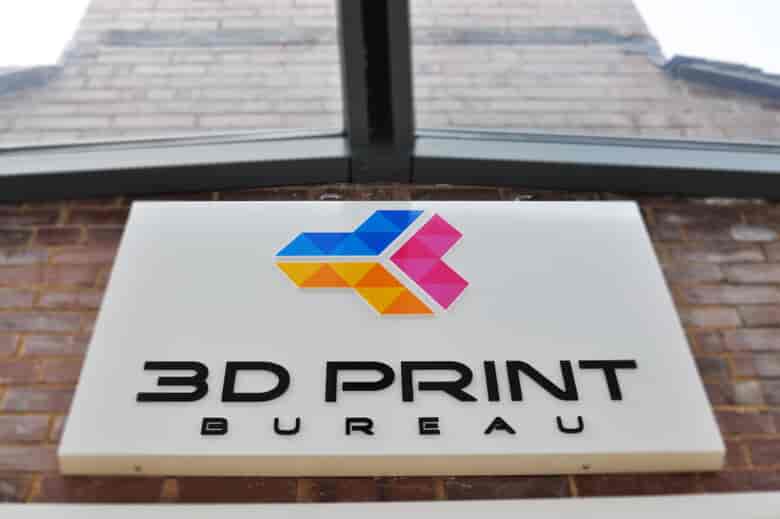 Read our interview with the team to follow the journey your product goes on with us and find out how each member contributes to the magic.
Ever wondered about the process of 3D printing? Well it's not as mysterious as it sounds. From idea to action, our team keep a close eye on your projects and ensure every step of the process is checked in fine detail to produce a world class end result! Read our interview with the team to follow the journey your product goes on with us and find out how each member contributes to the magic.
It all starts with an idea…
Like any great project, it begins with a simple thought, idea or even a daydream. You have a great idea, but you're not sure if it will work or how it could be 3D printed. This is where our 3D print specialist Dave intervenes! Dave has over a decade's worth of industry knowledge and practical experience and is your' go to man for advice. Here's what he had to say!
Hi Dave, can you tell us exactly what your role is here at the Bureau?
Dave: My role is to initiate the customers design journey by discussing the customer's initial needs and advising on the most efficient way to proceed. I usually advise the customer on what the best 3D printing method is for their design as well as what materials are most appropriate. I can then suggest a quote based on the most economic and efficient way to print your design. I also check all of the designs before they are sent to the printer to ensure they are going to print in the best possible way.  I then coordinate with Clive on capacity planning.
What is most important about your role?
Dave: Ensuring the customers design is created in the most efficient and economical way. I oversee the small but important technical aspects of the process such as part orientation etc. As we're a Bureau, our job is to take over the hard work involved in 3D printing for our customers and ensure that they receive an outstanding experience using our services without having to worry about the processing of their product. So the most important aspect about my role is ensuring the customer can entrust their digital design into my hands, feeling reassured that they will receive a world class end product which will be handled in a way most economical to the customer.
What do you enjoy most about your role?
Dave: I have a passion for what I do. My favorite part of the process is seeing an enquiry turn into a model, then delivered to the customer faster than they thought it possible, and getting positive feedback always makes my day. 3D printing is one of the new age industries that 20 years ago no one would have imagined would employ so many people, I love being a part of a modern business that is at the beginning of evolution and revolution.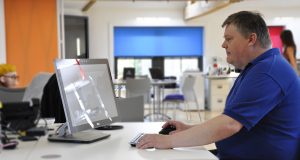 What do you find most challenging about working at the Bureau?
Dave: When we take on large projects, there is pressure to process the customer's order in time and make sure everything is printed to the highest standard's possible. However, this pressure is also good because it reminds what we are capable of here at the Bureau, and when the customer's order is delivered on time we all feel a shared sense of pride in what we have achieved not only for ourselves but also for our customers.
The magic begins…
Next, we discover what happens when your design/product leaves Dave and travels down to the printer ready to be brought to life. Hopefully you've heard that here at the Bureau we adhere to a very high standards and are passionate about exceeding your expectations as a customer. Well now we introduce to you our Production manager Clive who also has over a decade's worth of industry knowledge and practical experience!
Hi Clive! Could you explain your role here at the Bureau to us?
Clive: My job here at the Bureau is to ensure that all customer models meet the quality standards and that they are completed in the expected time frame requested by the customer. Essentially, I ensure we are doing what we say we are i.e. 'rapid prototyping'. It's my job we keep to the standards of rapid prototyping, after all 3D printing is a superior service to traditional manufacturing methods so superior service we will provide!
What is the most important thing about your role Clive?
Clive: We have a lot of important technical equipment here at the Bureau and it's down to me to make sure that our 3D printers are kept in a good working order to meet requirements. I'm an electrician by trade and have worked in the 3D print industry for a number of years so I'm the go to guy when one of our printers gets in a jam.
What do you enjoy most about your role here at the Bureau?
Clive: I enjoy the variety of the role as we have new projects coming in all the time! Its intriguing to see what's going to be next and which sector we're going to be working with which keeps me on my toes! I also enjoy engaging with our customers and enjoy showing customers around the Bureau. It's always great when customers take an interest in the technicalities behind 3D printing and I enjoy talking to the customer about how their design is being made. I'm also a bit of a technical geek and enjoy getting myself into a technical mess! But don't worry, I know how to fix it!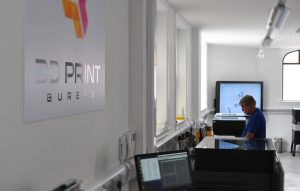 What do you find most challenging about working at the Bureau?
Clive: Its' quite time consuming to monitor the 3D printing process, it's not a 9-5 job. Our printers are working when we're sleeping and I need to be on call in case there's an issue, but this means I'm never bored!
Keeping us Organized…
Next we meet Denise and Charlotte, our ladies behind the scenes here at the Bureau. Denise and Charlotte keep our process streamlined by making sure our customers' orders are processed correctly and in a timely order.
Hi Denise and charlotte! Can you tell us a bit about what you do?
Denise and Charlotte: We are the administration assistants here at the Bureau and load all of the orders that Dave quotes. We ensure that the orders are put straight on the system so that Clive our production manager receives the print order swiftly and can begin printing. Overall, we ensure smooth and effective communication between each stage of the 3D printing process.
What do you think is most important about your roles?
Charlotte and Denise: We must ensure that everything is documented correctly so that there are no slip ups! Some of the projects we work on are confidential and we strictly adhere to the companies' confidentiality wishes in which we must take care with our customer's information.
What do you enjoy most about your positions' here at the Bureau?
Charlotte: I enjoy the variety of the role. Every day is a new one and we are constantly receiving new and interesting enquires from a wide variety of sectors.
Denise: I enjoy engaging with the customers as well as finding out about the different companies we work with. It's never a dull day!
In this department, we also have Vanessa. Vanessa manages our company finance and ensures everything is processed and handled in the correct way. We asked Vanessa what her role entails…
Hi Vanessa! Can you tell us what goes on in the finance department?
Vanessa: My role is to handle credit control for the sales ledger. I am responsible for all data entry onto our sage accounts package and chasing up payments as required. I also update production on the credit status of our customers.
So there's our team behind the administration here at the Bureau. These ladies keep us organized and ensure we don't descend into chaos when the orders come through!
Printing like clockwork…
Next we speak to the guys that assist with production at both our Stoke on Trent and Royston Bureaus. These guys are crucial to the printing process and have a lot of knowledge on 3D printing, you could say they are like our workshop elves making sure everyone gets their orders on time!
First we speak to Shah, our 3D print technician at the Stoke on Trent Bureau.
Hi Shah, can you tell us what your role involves?
Shah: My role here at the bureau is varied, and includes prepping models ready for printing, handling/fixing customer data and post production. You will most likely find me by a wash station cleaning customers parts ready to ship out!
What do you enjoy most about your role Shah?
Shah: My role here at the bureau is so varied that it is something new every day. It may be challenging at times, but that's all part of the fun!
Now we speak to Tristan and Kevin who handle production at our Royston Bureau…
Hi Tristan and Kevin, what does your roles entail here at our Royston Bureau?
Tristan: Hi! My role is to run production at our Royston Bureau which includes regular printer maintenance and stock control of materials. I also assist in optimizing data for FDM models through insight and handle quotes at peak periods.
Kevin: My role is to assist Tristan with all production related tasks at the Royston Bureau from processing orders down to stock control and printer maintenance.
The voices of the Bureau…
 And finally, we speak to the marketing team. Our Bureau marketing team ensure you stay up to date with our latest news and promote us as a 3D print Bureau. We've spoken to our marketing manager Catherine and marketing assistant Rebecca to find out about what they do.
Hi Catherine and Rebecca! Can you tell us about your roles here at the Bureau?
Catherine:  My role as marketing manager is to manage the company's identity and interact with our customers and potential customers, providing information and advice on the Bureau. I am in charge of updating the company's website and social media content as well as creating promotional materials including brochures. I also seek out showcasing/ business opportunities for the Bureau and organise trade shows and other related events.
Rebecca: My role is to engage with our customers and keep our social media up to date with new and interesting content about our Bureau and the 3D print industry. I also contribute to the blogs posts on our website, helping to keep our customers up to date with our company as well as addressing any queries people may have about 3D printing technology.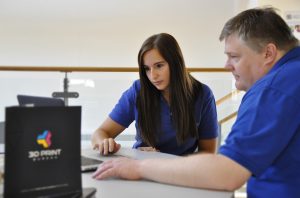 And what do you both most enjoy about your roles?
Catherine: I love how much variety there is and the amount of sectors we engage with.  It's also great to see how 3D print technology is developing.
Rebecca: I have a passion for being creative and that's exactly what I get to do with this job. There's always a new 3D print news story or an amazing project we're working on to write about.
So that's our team! Hopefully we've demystified the 3D printing process for you and you feel confident to give our team a call with any enquires you have. We're excited to receive our next project!