F900: Opening up new doors of opportunity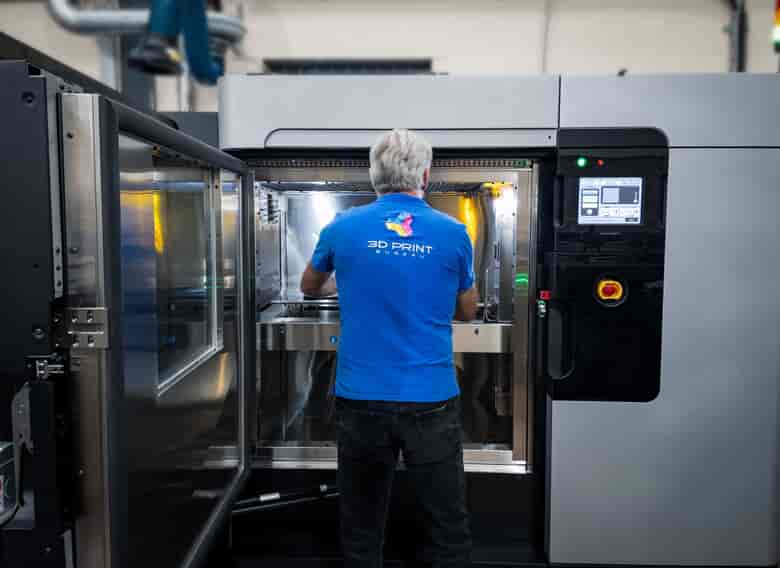 F900 joins the bureau team
In early 2021, 3D Print Bureau invested in the mother of all Stratasys 3D Printers – the F900, the latest generation of the successful Fortus range. With an impressive build tray of 0.5 m squared and a plethora of exotic thermoplastics – you can see why we were excited to get this system in-house!
What is the F900?
Like we've mentioned above, the F900 gives us the ability to create large parts or multiple smaller parts in the broadest array of FDM materials. With one of the largest build chambers currently available among FDM printers, the F900 enables us to 3D print at scale while delivering consistent, accurate results.
Whether our customers are after jigs and fixtures, functional prototypes, or production parts, our F900 delivers the versatility and reliability we need to get it right the first time, every time.
Dave Bennett, 3D Print Bureau Manager commented"
Since commissioning in February the F900 has made a significant impact on our capacity and efficiency. It's a worthy investment that allows us to react quicker than ever and already the ROI is obvious. The scope to print large parts without resorting to sectioning is great, but the increased build envelope also allows us run more parts per print, making scheduling more effective and reducing lead time.
Technical Specifications (the saucy stuff!)
System Size: 2772 x 1683 x 2027 mm (109.1 x 66.3 x 78.1 in)
Build Envelope: 914.4 x 609.6 x 914.4 mm (36 x 24 x 36 in)
Accuracy: +/- 0.089 mm or +/- 0.0015 mm per mm (+/- 0.0035 in. or +/- 0.0015 in. per in.) ). + Z part accuracy includes an additional tolerance of -0.000/+ slice height.
Note: Accuracy is geometry dependent
Materials available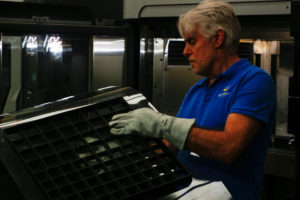 ASA
Strong, UV-resistant FDM material available in 10 colours for rapid prototyping and production parts.
ABS-M30
ABS-M30 is stronger than standard ABS, making it ideal for concept modelling, functional prototyping, manufacturing tools, and end-use parts.
ABS-M30i
This production-grade thermoplastic can be used in medical and foodservice industries due to its biocompatibility and ability to be sterilized.
ABS-ESD7
Durable, static-dissipative FDM material for end-use electronic parts, jigs and fixtures and fuel containers.
PC-ABS
PC-ABS is ideal for form, fit and function prototypes and low-volume production parts
PC-ISO
PC-ISO is a biocompatible, heat-resistant thermoplastic suitable for food packaging, medical and pharmaceutical applications.
PC
PC meets demanding needs for prototyping and manufacturing fixtures.
FDM Nylon 6
FDM Nylon 6 offers the best combination of strength and toughness of any FDM material along with good impact strength.
FDM Nylon 12
FDM Nylon 12 is tough, has good impact resistance and high fatigue resistance, making it suitable for snap fit closures.
Antero 800NA
This PEKK-based material has excellent mechanical properties, chemical resistance and low outgassing characteristics.
Antero 840CN03
Get a stronger lighter-weight alternative to metal with Antero 840CN03, a high-performance PEKK-based electrostatic discharge (ESD) thermoplastic.
PPSF
PPSF combines high strength with heat and chemical resistance for demanding functional testing and production applications.
ULTEM 9085
Flame, smoke and toxicity-rated ULTEM 9085 resin features a high strength-to-weight ratio and high thermal and chemical resistance.
ULTEM 1010
ULTEM 1010 resin offers superior mechanical, thermal and chemical resistance properties compared to other FDM thermoplastics.
FDM Nylon 12 CF
FDM Nylon 12CF (carbon filled) features the highest strength-to-weight ratio and stiffness of any FDM material.
ST-130
ST-130 soluble material is engineered for sacrificial tooling applications for the easy creation of hollow composites parts.
What's the system best suited for?
The Stratasys F900 is built specifically for manufacturing and heavy industries, where you plan and work big. With one of the largest build size of any FDM system, it's designed to handle the most demanding manufacturing needs.
We have had customers using it for not only large parts but also projects that need specific thermoplastics such as ULTEM 9085 for its FST rating.
Common industries that utilise our F900 are…
Aerospace
Motorsport/Automotive
Heavy Industries
Defence/Government
Telecoms
Do you offer traceability for the materials?
As with all Stratasys professional-grade materials, full traceability is available with a CofC issued for the specific cannister/s used to print your order.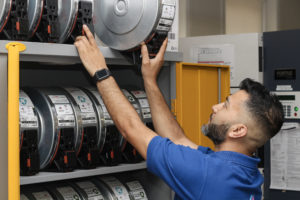 How much is it to print my part on a F900?
The only way to find out is to send us your file! We would only recommend printing your part on our Fortus 900 if the part/s required the bed size, or you needed one of the more advanced materials such as Antero 840CN03 for ESD properties or one of the ULTEM materials for FST ratings.
Our team are there to guide you through the process and advise you every step of the way.