Top 5 reasons you should use the 3D Print Bureau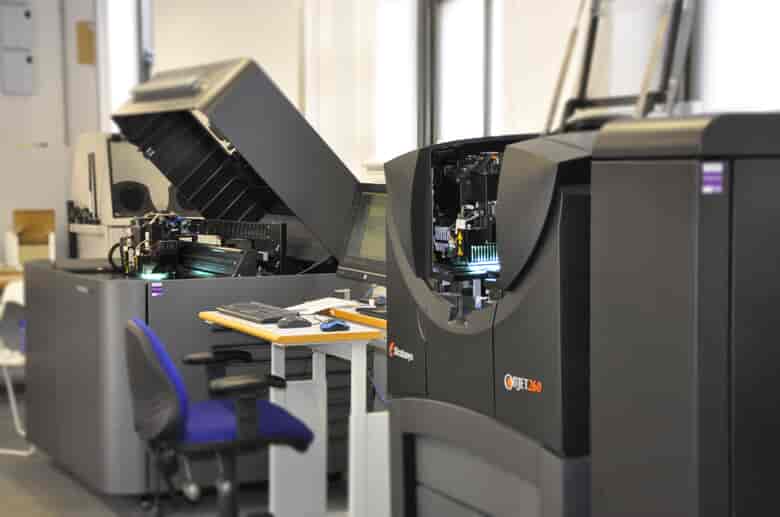 Discover the top 5 reasons you should use the 3D Print Bureau for your printing needs...
Are you looking for an industry leading company to assist you with your 3D printing needs? Are you stretched for time and resources? Or do you need help creating a design solution that will keep up with 21st century demands? Well you can stop your search as The 3D Print Bureau are here to help. Our professional and dedicated team have over a decade's worth of industry knowledge and experience and are on hand to assist you. Whether you're looking to create a prototype or you're a manufacturer looking for an economic solution for a low volume production run, our friendly and honest team are eager to take on your project.
Wide range of machines and Materials
We have an extensive range of Polyjet and FDM printers available in both Stoke and Royston. We are able to print with a variety of materials including performance grade and aerospace certified thermoplastics.  In addition, we have a range of Selective Laser Sintering (SLS), Colour Jet Printing (CJP), Multi-Jet Printing (MJP) and Digital Light Processing (DLP) 3D printing options you can choose from.
Our Expertise
Here at the 3D Print Bureau we have more than 12 years' industry knowledge in which we are able to offer in-depth practical knowledge and experience on 3D printing.
We work within a wide range of sectors including, but not limited to medical, film and TV, aerospace, automotive, fashion and Consumer Industries. Our team have worked on a variety of different projects and are experts at coming up with creative solutions to your design requirements. Due to our experience within a wide range of sectors, our team have specialist knowledge on the properties of each material which can be used and are able to suggest the most suitable type for you to use.
 We are also able to spot any potential design flaws in your original design and eliminate potential issues before printing.
Try before you buy
3D Printing is fast becoming the most popular design solution for multiple industries. However, it can be a fairly costly technology to invest in. Why not try out our range of 3D Printers and find out which one is best for you before making a large investment?
Perhaps you need to find out more about the capabilities of 3D printing and explore how it can be more beneficial than traditional manufacturing processes. In this case, our staff are on hand to demonstrate to you what are printers can do.
Extra Capacity
If you are already lucky enough to have 3D Printing in house and your printers are constantly busy then let us help you out! We know what it feels like to be working against deadlines and here at the 3D print Bureau we have an extensive range of printers which are able to work to precision throughout the night. This means whilst you're able to go home and put your feet up, you'll have peace of mind that our printers are still working hard on your order.
Our extensive range of printers mean we have been able to keep up with the highest of demands; including creating over 1400 3D printed faces and 800 individual models for an animation project. Therefore, we guarantee we will always deliver your project on time!
Let us do the hard work for you
In today's fast paced society, we all know the feeling of having a gigantic task list and not enough hours in the day to complete it. Here at the 3D print Bureau, we specialize in taking on complex design and production projects and have the capacity to create products with the most precision and care, in whatever colours and textures you require and all in the time frame you specify.
All you have to do is send us over the file and our team will do the rest! Our team are trained to find errors in your files and fix them, and we won't bother you unless it involves a change to the structure of your design. We also have access to a variety of finishing techniques on your product, so there's nothing left for you to do.  This means you can relax, knowing that the 3D print Bureau are taking care of your project.
What's more? By letting us do the hard work for you, there's no need to worry about training staff to use 3D printing technology or maintain the printers to keep them in top working order. We've done all of that for you too!
For any queries or enquiries please contact our team on 01782 757320. For a quote you can submit a file to contactus@3dpb.co.uk